Please note that the Bremen Area Historical Society Building is closed to the public until further notice.
If you have any questions please email us at: bahs43107@gmail.com.

Come and join us in celebration of our Tenth Anniversary!

We are excited to announce that 2020 marks the 10th Anniversary of the opening of the Bremen Area Historical Society Museum. It does not seem possible that we have displayed a decade of programs in pictures, artifacts and oral history of Bremen and Rushcreek Township.

Please plan now to come and celebrate this special event with us on *Thursday, April 16, 7:00 PM*, at the Bremen Area Historical Society building. The museum will be ready for your perusal of the newest display – Remember When.

Your support has made this celebration special. Your gifts, whether in oral tradition, of archival items, in monetary donations, in time or in other forms, have made this museum a unique and outstanding harbinger of history in southeastern Ohio. – Liz Baker, Museum Chair
* PLEASE CHECK OUR WEBSITE TO SEE IF THIS EVENT IS RESCHEDULED! *
PROJECTS AT BAHS
A new 10 ton Trane heating and cooling unit has been installed on the west side of the building. The new unit replaces
the original unit that was installed during construction in 1997/98. The cost of the project was $ 9,200.00.

The Board accepted a bid for sealing, paving, filling cracks and striping the parking lot. The cost will be $ 1,375.00. One
of our members has generously pledged $ 500.00 toward this project!

Another member has pledged a donation to cover the cost of having a local landscape company maintain the planters
between the parking lot and the front of the building.

Improvements have been made in the electrical wiring in the barn. Some of the lights in the barn have been replaced and
additional lights have been added. Thanks to Jim Baker and others who donated time to do this!


REMINDER! REMINDER!

The museum is closed. Our first display was 10 years ago! Check the website for a list of all of our previous display!


2020 Membership Newsletters

The next quarterly newsletter will be published in May. Newsletters are mailed to members of the BAHS. They are not
published on the website.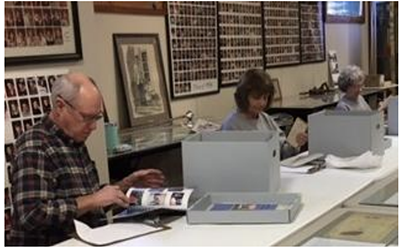 WORKDAY AT THE MUSEUM

Thank you to our volunteers who recently helped at a museum "Workday". Pictured, left to right, are Mike and Sue Burnworth and Sue Tipton. Not pictured are Marcia Kendig, Liz Baker and Terry Borah. Their task was to record the location of artifacts already recorded in our archives database.
The location information can be recorded in the software program "Past Perfect" which the BAHS began using last year. Now we will not only know what we have in our archives by where it is located in the storage area as well!
Welcome Mike & Sue who are new members for 2020!

Save the Dates & Watch for Details!
June 27, 2020: Event celebrating Ford Turner's art
October 3, 2020: Antique Tractor Show & Parade
November 7, 2020 (Saturday): Annual Meeting & Founder's Day