BOARD MEETING
JUNE 9, 2020

All members were present. Archivist Ken Shofter was also present.
The position of Vice President of the Bremen Area Historical Society is vacant.
If you are interested in an appointment to that position or would like more information about the position
please call Terry Borah or email him at bahs43107@gmail.com.
The board is considering filling the position of Museum Chair and Newsletter Editor with a part-time paid employee. A job description is being developed. If you would like more information please contact Terry Borah or Toni Harper at
bahs43107@gmail.com.

_______________________
RESCHEDULED

Save the Date & Watch for Details!
November 14, 2020 (Saturday): Annual Meeting & Founder's Day
PLEASE CHECK OUR WEBSITE FOR THE MOST UP TO DATE INFORMATION!

_______________________
The Bremen Area
Historical Society Barn

Work continues in the Historical Society barn! Liz Baker and her volunteers have sorted through the contents – determining which items to keep and which to discard. Liz provided the Board with a list of items in the BAHS collection that are stored in the barn due to lack of space in the building proper. The items include: church pews, a Hoosier cabinet, quilting frames, a potbelly stove, a school desk & chair and an electric hair curling machine – from Rose Armstrong's Beauty Shop on Broad Street!
HISTORICAL BARN
In 1857, Jacob and Jonathan Zook, Mennonites from Paradise, Pennsylvania, built a bank barn on the western edge of Rushcreek Township. In 1910 Clyde and Mary Martha Rowles bought the farm where the barn was located. Mary Martha was known as Mattie! Their son, Harold, inherited part of the farm after their passing.

Rod and Beth Schultz began renting from Harold in 1977 and eventually purchased his property in 1988. Rod, Beth and their extended family of 3 children, their spouses and 10 grandchildren all reside on or near the farm. The farm is home to Schultz Valley Farms, LLC., Produce and Meat. Unfortunately on June 4, 2020, the bank barn was destroyed by straight line winds. In addition to the wind there was rainfall of 1.6 inches in a 15-20 minute period of time.

They plan to rebuild the barn.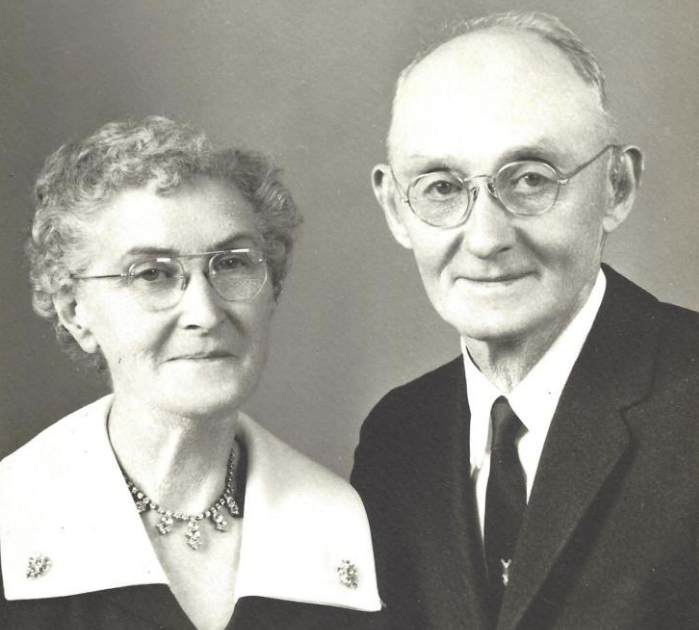 Clyde and Mattie Rowles
Picture provided by Ed & Martha (Rowles) Pool. Pictures were taken by Mary Martha Pool, a great granddaughter of Mattie and Clyde! The additional pictures were taken after the destruction of the barn.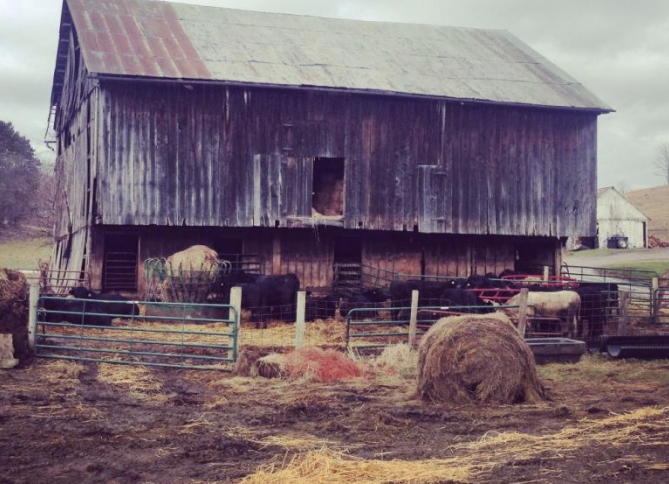 Picture of Schultz Barn taken about 1 year ago.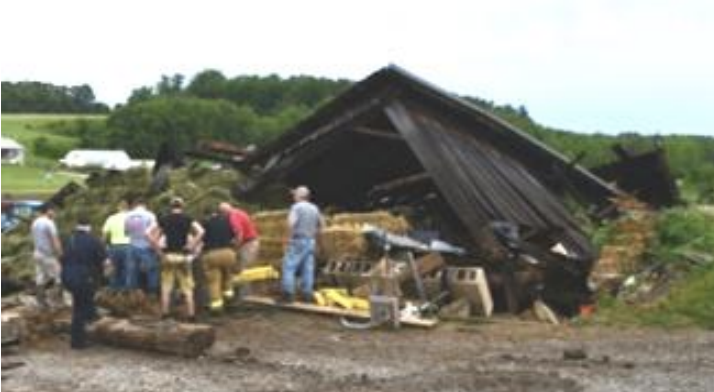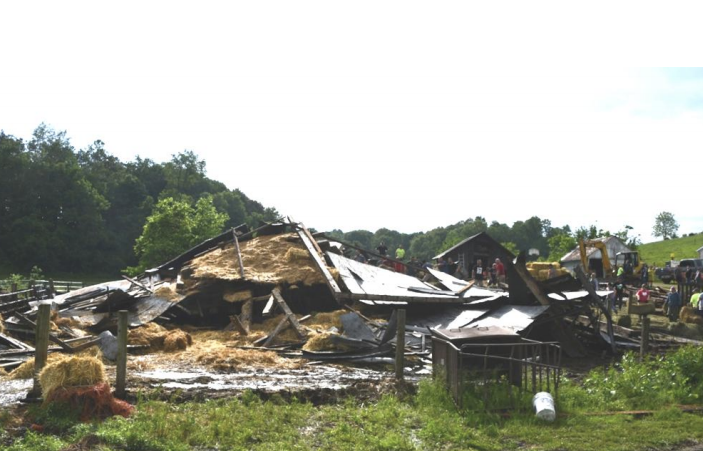 2020 Membership Newsletters

The next quarterly newsletter will
be published in AUGUST. Newsletters
are mailed to members of the BAHS.
They are not published on the website.