Preserving Family History
Martha (Rowles) Pool and her oldest daughter, Mary Pool, uncovered hundreds of letters written by Martha's father, Cyril Rowles – a lifelong resident of Rushcreek Township. The letters were written between January 1943 and March 1946 during his military service in World War II. They were written to Martha's mother, Ruth (Ransom) Rowles. Cyril and Ruth were married November 25, 1944. The letters not only describe Cyril's life in the military, but also the long distance romance between Cyril and Ruth.

Martha is one of five children born to Cyril and Ruth. Martha and her husband, Ed, reside near Bremen but her siblings reside in other states. There are numerous grandchildren and great grandchildren spread around the world. The challenge became how to preserve the letters as well as how to share the letters.

Martha and Mary published a book: The War Years: I Am Okay and Hope You Are the Same. The book not only includes copies of the letters and photos of Cyril and Ruth, but it also includes copies of postcards, maps, newspaper articles, and timelines.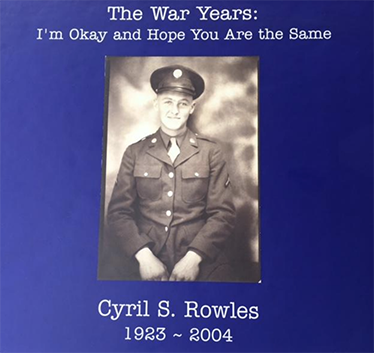 Mary resided in Hanoi, Vietnam when she and her mother began working on the book. By the time the book was completed Mary was living in Tokyo, Japan! Martha would scan the letters and email the images to Mary. Mary searched the internet to glean other information and images relevant to the context of the letters.

Although Cyril refers to letters received from Ruth no such letters were ever found. The book was completed in July 2018, using the website Blurb. It is a
beautiful hardback book of 308 pages. Copies of the book have been offered to all Martha's siblings. If you are interested in purchasing a copy you can do so at: blurb.com
The newspaper clipping on the right is one of many many images in Mary's book. Pictured are Ralph Ricket & Cyril Rowles. They are first cousins. Born on the same date they also began their military training on the
same date!
………………………………….

Ralph Ricket's daughter, Sue Henwood, resides in Bremen. She and her husband, Mike, are members of the BAHS.
REMINDER! REMINDER
The museum is closed.
Our first display was 10 years ago!
Check the website for a list of all
of our previous displays!
2020 Membership Newsletters

The next quarterly newsletter will
be published in May. Newsletters are
mailed to members of the BAHS. They
are not published on the website
LEFT: Kindergarten teacher, Christina Venrick, waves to students during a recent staff parade. The parade was a means for the teachers to connect with students while schools are closed.

ABOVE: The Bremen-Bethel Presbyterian church held a drive-in worship on Easter Sunday. Members and friends were connected by conference calling from their vehicles and from
their homes – just like an old-fashioned party line.